Stratosphere Buffet Reviews, Prices, Hours & Tips
Real Stratosphere Buffet Reviews? Look no further. This is a real review, with prices and hours, and some real advice about this place. This used to be one of the best Vegas buffet deals on the Strip, even considering that you had to travel some distance to reach it (it's at the very North side of the Strip). For very little (around 9 dollars) you could have choice and decent quality, set in pleasant atmosphere.
Things have changed and buffet prices (as well as restaurants prices) have gone up everywhere in Vegas, especially on the Strip. So, although the Stratosphere Buffet is still one of the more affordable on the Strip, it's no longer such a good deal to make it worthwhile going all the way up there for. If you are staying in the North Strip, then of course it's a different matter and you are probably going to try it and be moderately satisfied with it.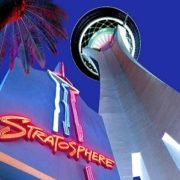 The worst aspect of this all-you-can-eat is the 2 hour gap between brunch and dinner.   This completely prevents a roll-over opportunity (which is still offered at most buffets) and inhibits the schedule of those who like to really sleep-in.  A cheap attitude.
Stratosphere buffet reviews vary, and it's hard to work out if it's really for you from just the many reviews you will be reading.  So, to clarify, we'll say this:  if your hometown offers no or only rubbish-all-you-can-eat for more money than they are worth, then you will like the Stratosphere buffet, and this is the same for many 'average' buffets in Las Vegas.  But, if you come to this great city to explore and enjoy the best you can find in the 'Western World', then this place is not for you.  It may be worth your while paying a few dollars more and visit one of the best buffets in Las Vegas.
If I were to pick 2 words for this buffet it would be un-inspired average. The overall food range is too small for us buffet lovers (we like to be able to choose from many dishes) and, if you are health-conscious, the options will be limited (due to the small range of dishes). So, although it's probably as small as Treasure Island's though it's not as beautiful; and, if you don't mind going just a little bit off Strip (though more towards mid Strip), you will have a cheaper yet better option at Palms or, if you have a car and don't mind driving, at Red Rock's, where the buffet is much larger and offers a wider range of good dishes.
The large seating area is comfortable, clean and pleasant. The buffet stations are all grouped in a relatively small area; here you can find all the regulars such as Chinese, Mexican, Italian (of course nothing like Italian food offered in Italy or at the Bellagio Buffet, which is the only place you can enjoy dishes which are at least a little closer to authentic Italian flavors and quality), a bland but average salad bar, a very average carving station and a large-enough dessert station. By the way, if you are a dessert lover we recommend you read our 'Best Vegas Buffets for Dessert' page. They have a nice soup station with at least 2 soup choices, both tasty; they occasionally offer good quality Pad Thai and, for those who don't like to experiment much, they have the 'American Bounty' section with all the traditional American comfort foods (fried chicken, macaroni and cheese etc).
Dinner will feature more 'expensive' fish & meat dishes; for example, if you like smoked salmon, you will only find it at dinner.
As with most other average buffets in Vegas, you will find a self-serve drink station (soda, tea, water, juices) which is very desirable and should be available at all other buffets where you may wait forever for a refill; these days self-serve drinks sections in Vegas can be quite sophisticated and offer a truly satisfying range of cold and hot drinks, including non-GMO milk substitutes!
Let us know what else you want to know from Stratosphere buffet reviews and we'll write it!
Stratosphere Buffet Reviews:
Hours & Prices
Brunch $15.99 + taxes (9.99 for a child up to 11) – Monday through Thursday, 7am to 2pm – Friday, 7am to 4pm
Champagne Brunch $21.99 + taxes (12.99 for a child) – Saturday and Sunday, 7am to 4pm
Dinner $21.99 + taxes (12.99 for a child) – Saturday through Friday, 4pm to 10pm
All Day Buffet Pass at the Stratosphere
30+ (plus taxes for one adult day pass during the week and 35+ (plus taxes on Saturday and Sunday).  If you are interested in Stratosphere buffet reviews trying to find out the value of its buffet pass, go to our Day Buffet Pass page.
Coupons & Discounts for the Stratosphere buffet
If you have a players card (for which you can sign up for free the moment you arrive) you can receive a discount on all their regular prices from 10 to 25 per cent, depending on your card color (which is directly connected to how much you have gambled, provided you used your card every time you played). As per coupons, we have a dedicated page on Vegas coupons.
Phone: (702) 380-7777 – We try and publish up-to-date information at all times but, as with all establishments, buffet prices and (to a lesser extent) times can change with no notice so always check directly with them.
Best Buffets in Vegas including Affordable ones  –  24-hour Buffet Pass Tips & Tricks  –  Special Buffet Deals  –  Las Vegas Coupons  –  How to Get Free Stuff in Vegas  –  Best Affordable Weekend Resorts in Vegas