TI (Treasure Island) Buffet Review
With so many buffets declining in quality, Treasure Island are at least sticking to their pride and uniqueness.  (Hours & Price at the bottom). Ambiance, Atmosphere and Decor. It's a far cry from the usual huge dining rooms offering countless dishes and high traffic. This Vegas top buffet is very different. It's ideal if you want to experience a peaceful buffet which will give you the impression that you are in an eye-pleasing contemporary, high-quality diner with much smaller (and very nice) rooms, decorated as if you were in a classy restaurant. Table and chairs are dark wood, plenty of wall pictures, beautiful mirrors and other décor which you would find in a true restaurant and practically never in a buffet. You will love the atmosphere if you are into 'cosier' atmospheres. We liked it. Moreover, each section is small so the service is excellent.  
The food is also delicious. Before continuing, the only downside here is, of course, that you will not find the huge number of dishes you find at other buffets such as the huge and delicious Studio B at the M Resort, the Rio (which is not as delicious, though) or the super expensive Bacchanal.   However, the quality of the dishes at the Treasure Island buffet is good; it's very much a matter of quality vs. quantity here. For this reason, perhaps, the clientele here seems to be mostly made of those who are not interested in piling up countless pieces of tasteless food items; this clientele wants every bit of food to be good, and wants to enjoy a beautiful, restaurant-like environment.
If you like good quality fresh fruit and good salads this is a great option for you; also, if you like great pizzas and great made-to-order pastas this is the place for you. But, essentially, if you like to taste what you are eating, whatever it is, all set in a very nice environment, you will love this beautiful little buffet.
Made-to-order:  another unique aspect of this smaller top buffet is that many stations have 'chefs' who can and will prepare a fresh dish for you; fresh salad prepared for you according to the ingredients you prefer (very much as the former-great buffet Cravings Buffet at Mirage used to offer, before they decided that they did not want to be a good buffet anymore); here at TI they don't have our favorites, artichokes, but they do offer abundant avocado salads (mixed with other vegetables in truly delicious dressings) and other delicacies. You will also find a delicious couscous and equally delicious hummus. 
Their sushi station is also fresh: a small, fresh plate of sushi will be prepared for you by the station chef)! As you may know, Sushi is often 'stale' and plain in all Vegas buffet (except for the one at the Todai Sushi Buffet, of course), but with a fresh plate prepared for you here you can enjoy it a little bit more.
One of our favorite stations is the sandwiches and wraps station;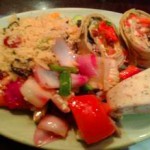 the wraps are small but absolutely delicious, as good as you would expect from a dedicated restaurant; the combinations are also well crafted and of high-standard (such as brie and honey, roast beef with goat cheese, bacon and spinach with other, high-quality cheeses).
You will find good quality dishes such as the ubiquitous prime rib, boiled shrimp, fried seafood, and a reasonable range of cuisines (Italian, Sushi and other Japanese dishes, above-average quality Chinese dishes) as well as some very popular dessert options such as very good crème brûlée, caramelized flan, truly excellent freshly-made mini doughnuts, chocolate-covered strawberries and other childhood-reminiscing items such as cupcakes and fresh cotton candy (which seems to be very popular).  
The service is good; during our most recent visit it was actually excellent. So, we are pleased to say that this top Vegas buffet has improved and that's why, together with the elegant atmosphere and its unique offerings (all good quality) we have given this smaller but delicious buffet 4 stars. The only problem is the selection, but at least what they serve is good! Unless you go to the M Buffet or to the expensive Bacchanal (and to certain extent to Aria and Bellagio), these days you may be disappointed if you want several gourmet dishes! Having said that, we still love the Thai broths at the Rio buffet and the Won Ton Soups (and the one-of-a-kind made-to-order salads) at Cravings.
Take a look at what you can enjoy at this gorgeous little buffet, starting from the delicious made-to-order salad and deli section; and of course the top-quality smoothies (breakfast) or yogurt drinks (lunch and dinner) and all-day long yogurt cereals with fruit (all high-end, good quality ingredients); also, the phenomenally delicious wraps and couscous.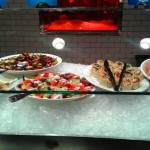 The make-yourself burger and hot dogs sections for those who still want some fast meat among gourmet choices, and the fantastic wood-fired-style pizza, among s a really classy environment, the only truly classy buffet in Vegas (despite the beauty of Aria, Bellagio or Wynn).
The only problem I think is that the plates on which you pile up your goodies are small. I understand the concept, but for the salads you may find yourself juggling hard to avoid having your freshly made salad fall all over the place. Just a thought. I supposed the small plates are supposed to encourage sampling rather than eating voraciously but, after all, a buffet is still a buffet!
Hours of Operation & Prices of the TI Treasure Island Buffet
7:00 a.m. to 11:00 am. $23+* Breakfast, Monday – Friday
11:00 a.m. to 4:00 pm. $25+* Lunch, Monday through Friday
4:00 p.m. to 10:00 pm. $27+* Dinner, Monday through Thursday
7:00 a.m. to 4:00 pm. $27+* Brunch, Sat & Sun
4:00 p.m. to 10:00 pm $29+* Seafood and Special Dinner, Friday through Sunday
Phone number: (702) 894-7111
*Buffet prices do not include tax, and are subject to change. Please check with them over the phone in case they have adopted a last-minute change.
Best Vegas Buffets including Affordable Ones  –  Best Burgers in Vegas  –  Best Restaurants in Vegas