First Time in Vegas Advice
First Time in Vegas. Advice, tips and tricks.
What to expect from Vegas and what to do once you arrive at the airport
Let's face it: Vegas is not for everybody and you may well have wrong preconceived ideas as to what you'll find once you arrive. You may be expecting action-packed 'adult' fun, or a family fun Disney-like heaven, or a top-rated place to relax and unwind, a cheap way to enjoy a fantastic holiday, or just a place where you have a chance to make some money. No matter your expectations from your Las Vegas trip, you are likely to be disappointed if you don't learn to find what you are looking for.

McCarran Airport: the main arrival airport will not disappoint you, in that, as you arrive, you'll face countless slot machines scattered around, as well as pleasant sounds and advertising imagery everywhere, providing plenty of sensorial stimuli on a par with what the rest of Vegas will offer you; do not worry: it's safe, fun and well organized. The secondary arrival section (how else can I call it?), is where you'll land if you are coming from some UK destinations on some UK carriers; in a word: awful from all fronts and some significant distance to the main arrival area. Even the choice of shuttles and taxis is limited and the best you can do is to struggle your way to the main arrival wing so that you can enjoy a good choice of shuttle, taxi and limousine services (and anything in between) to reach your Vegas hotel destination from the airport. After the 'struggle', you will reach the main McCarran arrival hub, where all you need to decide which means of transportation is best for you in order to arrive at your hotel. Nothing fancy, no futuristic experience, but you'll have your shuttle booths, brand new public buses (affordable and fast) and pretty much any kiosks you can think of offering whatever service you prefer.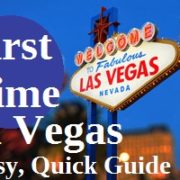 Going to your Vegas hotel from the airport (first time in Vegas advice)
I used to prefer shuttles, but now I am leaning towards the fabulous WAX bus (depending on my departure point – more on this further down). As per the shuttles, which are frequent and operate through the night, they still provide a great & affordable option if you traveled solo or with just one other person; if I travel in group of 4 or 5 people a large taxi may be a cheaper option (but make sure it's a UK-type huge cab, otherwise your luggage will be 'tortured' or it simply will not fit. Besides the WAX bus, for one or two people the shuttle provides an affordable alternative to the ever-increasing taxi fares (with ever-increasing starting fixed rate, which is simply a rip-off – and of course the expectation of a large tip, not sure why to this date, unlike pretty much any other cab service in the rest of the world). These shuttles will take you to any main resort, even off the Strip, and they are very important for those not wanting to be ripped off by taxis the second they arrive in Las Vegas.  
Some groups wish to travel in style, perhaps during a special celebration period; in this case you may wish to consider a limo service to your hotel. Personally, I would not bother; even if you are a group, a large taxi will do the job (though large taxis seem to be a rarity in Vegas these days, to continue their greedy trend) and, after you are settled in your hotel, you can hire a limo service to tour around the main attraction areas in Vegas, or just to tour around! As in the case of the Grand Canyon Bus tours from Vegas, I strongly recommend you shop around and you read all the fine print before booking a limo service.
If you opt for a taxi for your first time in Vegas, besides the initial fixed rate shock, beware that there have been many cases where first-time visitors were cheated: the cab driver would tell them that some roads were blocked, or that the traffic was too high in certain areas, thus 'forcing' him to take a longer route. We were tricked this way a couple of times at the beginning of our frequent trips, but it's not been the case in the last 12 months we've visited, thankfully. If you find yourself being taken a very long route, then you know it's been a fib; the best you can do at this point is to avoid giving a tip altogether and, of course, report the taxi (write down the number, easily identifiable) to the service.
Using a taxi takes a long time if you go along the Strip, which is often one of the slowest, most trafficked area. It is worthwhile going just on parallel roads and most taxi drivers will do that; but not beyond parallel roads.
First time in Vegas: the crowd: the type of visitors Vegas is receiving has changed over the years and it depends on the time of the year you visit, as well as the time during the week, or on whether you are visiting during special holidays.  For example, on Thanksgiving or Christmas you may see a larger-than-usual number of families, especially Asian; on weekends you will see young party crowds and on 'regular' mid week days you will see a mix, though the old-time gamblers and the senior gamblers have almost disappeared, sadly (perhaps opting for cruises instead). It also depends on the season; when the pool areas are 'warmer' (not all Vegas pools are year-round pools, remember) you will see more of the young-wanting-to-heavy-party crowds (even more so on weekends), especially in the low to mid-range resorts on the Strip (and in some downtown Vegas resorts); but you will also see regular 'folks' on any other day, even middle-aged, many of them seeking to enjoy shows or special events. There used to be many more business visitors in the past, when a Vegas trip was part of one's company's bonus or 'treat', but these days it seems that Vegas is trying hard to attract visitors who have been impacted less by the financial problems of the recent years (whose who save to blow large amount of cash in Las Vegas, often on partying and booze). For this reason room rates have reasonably low (if you know where to look), although drinks, shows, high-end dining and even some buffets are still expensive (though buffets are often advertised with special discounted deals).
Note on the WAX bus for anybody frugal and anybody who is enjoying their first time in Vegas on a budget: for more information on this great, affordable bus, which we highly recommend, go to our Vegas Transportation (Easy Guide) page, which has been newly updated and is recommended for anybody's first time in Vegas.
If you want to splash out and get the best of the best Vegas has to offer, and check our section 'How to do anything in Vegas' (with many subtitles which will show once you point the mouse on it) for tips and tricks for visitors, as well as 'Eat affordable in Vegas' and 'Cheap Drinks in Vegas' for those wanting the best on a budget.  Free attractions in Vegas  –  Secrets Around Vegas  –  What to Avoid in Vegas