Palms Vegas Buffet Review
Update 2017:  this buffet is currently closed for remodeling.  When I asked, I was told that it would not be re-opened until DECEMBER!  That's a long remodeling, if you ask me!  I wonder if they are going to see if their profits suffer or not, and then decide whether to reopen the buffet.  I hope they do, because affordable Vegas buffets need variety and need to be better than the pitiful nearby Gold Coast buffet!   
Review when it was open: affordable and good still exists, even with the 'budget-oriented trends' of late!
If you want to eat at very affordable Vegas buffets offering meals from around 8 to just over twelve dollars per person, and you don't wish to go too far from the Strip, you must try the Palms. Despite an occasional small decline in how the food is prepared, depending on who's cooking I think, it is still by far the best Vegas buffet in this very low price range offering truly delicious, unique dishes; although Red Rock is an excellent a good contender, the Palms buffet is so easily accessible from the Strip that… It has the edge in terms of viable options for Vegas visitors.  
Lately there have been changes to this small but great all-you-can-eat; luckily, although some of our favorite dishes have been removed, they have introduce a couple of 'winners for everybody'.  Details below.
How we found it:  I was staying at the super affordable Gold Coast Hotel and Casino and I was bored with eating at their very cheap but not-so-good buffet; I was also bored with going to the Rio buffet because it has decreased in quality over time, to the point of being just mediocre in terms of how good the dishes taste. I could have gone to the Strip or I could have gone all the way to one of the best Vegas buffets of the moment, Studio B at M Resort. But I was really lazy. I really wanted somewhere close-by and cheap.
Thus, I went to Palms, just across the road from the Gold Coast and a short walk from the Rio. Their price was excellent, slightly over eight dollars for lunch (all you had to do was sign up for their players card, which is free of course). I was hoping to eat a somewhat edible buffet, at least as do-able as the not-so-exciting though cheap Gold Coast. Well, I was thrilled! It made me wish I'd come to eat here evey time I wanted to spend a modest amount for lunch, dinner or for any weekend brunches (which are usually expensive at most other resorts). It is a great buffet, especially if you consider its price.
Image: the delicious green, yellow and red curries at Palms Buffet, once a delicacy at this small buffet; unfortunately recently they started serving only one curry (red), having added some other dishes such as the incredibly popular sliders (very flavorful and well prepared/cooked mini burgers);
Deep plates:   Palms is the only Vegas buffet offering large, deep plates, which are very useful for dishes with sauces!
Salad. The salad section was one of the best in Vegas but recently I have noticed some 'cut-downs':  their traditional, delicious ready made salads (one of them Caesars) have disappeared and now you have to make your own.  Two of the traditionally delicious appetizers (which I used to accompany my salad), namely freshly-prepared Tabouli (Tabbouleh) and hummus, were also missing on our last visit, so the salad bar has become blander and more common, though still better than most other affordable Vegas buffets. 
The soup section has become smaller than previously but it's still varied and decent, including Miso soup, chicken soup, a vegetable soup or a chowder soup. The signature dishes of Palms' buffet now are its sliders (mini burgers), its Thai curries (but as already mentioned they are become fewer and fewer) and its seafood soups & dishes. The Italian section is better than most other Vegas buffets; there's been a tiny drop in quality for their signature Italian dish, the seafood linguine, a very popular dish in Italy (it's a white sauce but it's light and flavorful, though lately I've seen it swimming in too much liquid for it to be even remotely authentic or 'al dente')! They offer a good range of well cooked meat dishes as well as well cooked fish dishes, shellfish and seafood delicacies, and most of them are cooked and prepared better than at any affordable buffet. Just to give you an example of what I mean:
the seafood linguine used to be made of perfectly cooked linguine (which is a type of pasta similar to spaghetti, but more appropriate for seafood sauces); preparing and maintaining pasta 'al dente' (which means not overcooked) is almost an impossible task at a buffet, where it sits on a tray for long periods of times; however, at the Palms buffet it was still perfect when it reached my plate: exceptional! On our latest trip, as mentioned, there was a drop in the way this dish was cooked, and we hope it was a temporary slip-up.  Watch this space 🙂
They serve better-than-usual, delightfully cooked salmon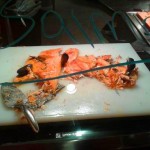 (the image depicts their excellent quality Scottish salmon, perfectly cooked and well presented); they also serve better-than-average mash potatoes (light, tasty but not too salty).
The service was still good (though servers are usually very busy) and the overall look of the restaurant area is much better than at the average 'budget' Vegas buffet, thanks to their marble floors and overall modern feel.
Dessert. The dessert section is small (still acceptable for this prince range) and not the bastion of this buffet. But they have the very essentials, such as bread budding, self-serve ice-cream and chocolate/cream pastries.
In brief, well done to the Palms for providing a truly affordable yet very good buffet, albeit small! It is a rarity this days! Well worth catching the free shuttle from mid Strip (from Palms to Forum Shops at Caesar's, or from the nearby Gold Coast and Rio to Bally's or the Harrah's resort respectively – more on this futher down). Also well worth it if you have a car, are on a budget and want to eat well.
The biggest drawback is that, if you ask for water or club soda, you won't enjoy its quality. To us it tasted like tap water. Some other resorts offer filtered water and it makes a huge difference. One of the best, water-wise, is the buffet at Cosmopolitan.
The service at Palms is generally good and courteous, but they are often very busy.
Tip: the beginning and middle of each meal shift, the food is at its best.
How to Get to Palms: Palms is on 4321 W Flamingo Rdt. It's a very short drive from mid Strip, practically in the same area where Rio and Gold Coast are. As you drive on the Strip, once you reach Bellagio you turn left and keep driving for a short distance. You could even walk (about 20 minutes from Bellagio/mid Strip, which is handy if you don't want to spend money for cabs after the shuttles stop running, in the early hours of the morning). All day long, however, you can catch a free shuttle to and from Rio resort (just outside the Rio they have free shuttles to several areas of the Strip, such as Harrah's, Bally's, Paris) or the Gold Coast, which is across the street from Palms (their shuttle goes to Bally's, mid-Strip). You may have to present those specific resorts' players club before you are allowed in, but it's well worth getting it for those great free shuttles. Palms are now offering their own free shuttle (but always double check with them, because they keep changing it) to the Forum Shops at Caesar's. The following video can be viewed full screen if you prefer:
Price (for a detailed price & hours chart, see further down):
from around 10 dollars (+ taxes) for breakfast, 14 dollars for lunch all the way to 26 dollars for the weekend seafood buffet, depending on whether it's breakfast, lunch or dinner. Now you no longer receive a discount if you hold a Palms players card, unfortunately:  they have decided that we actually have to play at the casino to receive a discount, which is play-based. A more detailed price grid is at the bottom, bearing in mind that Vegas resorts often change their price suddenly without notice so a quick phone call to Palms (702) 953 7679 to make sure on the day of your planned trip, is always a good idea.
One of our videos of this great buffet is about its affordable brunch
Palms Buffet Hours & Prices
Sunday

Mon

Tue

Wed

Thurs

Fri

Sat

8 am – 11 am

Brunch

15.99

9.99

9.99

9.99

9.99

9.99

9.99

11 am – 4 pm

Brunch

15.99

13.99

13.99

13.99

13.99

13.99

13.99

4 pm – 9 pm

20.99

20.99

23.99

20.99

20.99

Seafood

25.99

Seafood

25.99
Please note that Vegas buffet prices change often with little notice, so always double with with them. (702) 953 7679
Back to Las Vegas Reviews Tips & Tricks
Back to Vegas Buffets Star Ratings
Back to How to Get Free Stuff in Vegas