Planet Hollywood Buffet Review
Planet Hollywood Buffet Review (hours and prices at the bottom). If I had to summarize it in one sentence, at least for lunch and dinner, I'd say: a huge variety dishes, averagely prepared (at best).  As I say all the time, the following review is relative to other buffets in Las Vegas, because as we all know, if most of us compare any Vegas buffet with the pittance we have at home, well, we'd all be excited and happy to eat at many of them, on the Strip and off the Strip.  But when I review a buffet in Vegas I have to compare it with what else is in this city.  Let's go into details.
Planet Hollywood Buffet Review (hours and prices at the bottom).  Spice Market (this is its name) has suffered a steady decline for years in terms of texture and quality (not variety) which is a huge shame, since years ago it used to offer a sumptuous, high quality, large selection of dishes.   About 2 years ago there was a attempt at improving each dish with the arrival of a great new sous-chef from Mirage but, on our last visit, almost everything had returned back to below-average quality and the great sous-chef we had met was nowhere to be found.  But one thing needs to be clarified before continuing with our detailed Planet Hollywood buffet review:
this buffet offers a large variety of dishes and for that it's 'fun'; however, almost none of the dishes available is well prepared.  If you compare this buffet to the all-you-can-eat you may find where you live (the ones near our 'home' are awful, for example), you will like it.  But if you compare it to with the many other buffets Vegas has to offer, then you will be significantly disappointed in terms of quality of dishes prepared.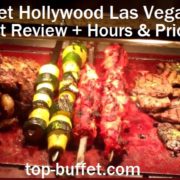 Breakfast (Planet Hollywood buffet review) – PH Spice Market breakfast buffet used to offer delicious fruit smoothies (and yogurt drinks); these days, however, the very best smoothies are served by the wonderful Studio B.  Cosmopolitan has some natural juices (nothing concentrated nor 'altered', nor water + syrup as we just found – outrageously – at the super expensive Bacchanal).
Stations – This buffet has several stations and it's therefore very long; this means you should walk all the way through to the end in order to explore the various dishes, especially at dinner time.  What you will find will vary according to the time of the day, but generally speaking:
on the left end side you will find most breakfast options and then, from lunch onward, a good selection of seafood, fish and pasta dishes; their fish & chips section (lunch) does not seem to have good batter nor enough fish content inside, whilst the chips seem to be lower-quality fries.  (Having said this, if all you like is fast food then you'll be satisfied enough). Further along you'll find a modest Italian-imitation section with lower-than-average quality pizza & pasta.  Further along, towards the center, you'll find a good variety of below-average-quality 'American comfort food' such as macaroni & cheese, mash potatoes as well as the ubiquitous Rotisserie section.  Again, we're being 'harsh' on the basis of comparing this buffet to the better Vegas buffets.
We did not notice the popular sliders and Reuben sandwiches until dinner; however, when they came out the sliders were dry; we were not impressed by the quality of the ingredients nor the preparation.
The Asian station is relatively small compared to the buffet at Aria, Bacchanal or (of course) Studio B; it's poor even compared to Mirage's.  However, the lower quality was what made it truly forgettable.  The spring rolls were hard and with very little filling.   No tasty Chow Main nor Singapore Noodles.
The Middle Eastern section, once the bastion of this buffet (from the good old days when it was the 'Aladdin' resort), offers nothing spectacular.  The kebabs are nothing special, the hummus is better at Aria (where you find much more to choose from and all better quality) and the cooked dishes are just not good enough (not authentic, not well cooked and generally bland).
The Mexican section, on the far right of the buffet, is simply of below-average quality.  Make-yourself tacos & fajitas could be fun but they are not made nor served with love – like the rest of this station (by the way, if you seek good tacos, the best fish tacos are served at the Aria buffet – lunchtime). The guacamole was what you find in all budget buffets.
Dessert Section: pretty much what you expect at any average buffet.  If you are into desserts, we have a 'Best Desserts Buffets in Vegas' section which you may find useful.
No line-ups, which is good, unless you go during peak dinner or on weekends. They have introduced a continuous schedule (breakfast-lunch-dinner) without breaks, and that is very welcome; during our last visit there were absolutely no line ups.
For a few more dollars you can now buy an alcoholic beverage option; otherwise you will be entitled to one alcoholic drink (a small glass of sparkling wine which they call champagne, a far cry from the 'real champagne', of course).  Free drinks are served at several buffets, including Mirage & Studio B (not unlimited).
If you have a 24-hour buffet pass from the Caesars's Group this may still be one of the 4 or 5 buffets you should visit; however, Rio's Carnival & Seafood buffet has improved lately and I would personally opt to eat there throughout the 24 hours.
Planet Hollywood Buffet Review: Hours & Prices
Breakfast: 7:00am – 11.00- around $25
Lunch: 11:00am – 3.00- around $30
Dinner: 3pm to 11pm: around $40
Sat & Sun Champagne Brunch 8:30am – 3pm around $33
The buffet is a bit pricey (especially dinner) and sadly it does not reflect the decline in quality this buffet has suffered lately, although many may still appreciate the variety of dishes here. In any case, higher buffet prices seem to be the trend everywhere on the Strip; a cheap but good buffet is the very good Palms Buffet; a slightly more expensive but huge and good buffet is the M Resort Buffet, thought the latter is harder to get to if you don't have a car (read about how to get there on its dedicated page, underlined).   Rio Carnival & Seafood buffet has improved and it's now the best of the Caesars Entertainment buffets.  Buffet prices do not include tax, and are subject to change (and they do change!). Please check with them over the phone in case they have adopted a last-minute change (it happens often). Telephone: (702) 785-5555 
Best 10 Buffets in Vegas, including affordable ones
Affordable Resorts in Vegas for Expensive Weekends
Ask us Any Question related to our Planet Hollywood buffet review or any other Vegas topic.