Main Street Station Buffet: Review Hours & Prices
Before we go into details of our Main Street Station Buffet review (hours and prices at the bottom), let's preface it with this: Las Vegas has a nasty little habit of increases buffet prices (not only room prices) on weekends, so you may be hard-pressed if you want to spend only a few dollars.  However, if you don't mind about the most-sumptuous buffet experience ever, then you may be happy enough going to these bargain-basement buffets, such as the Main Stration.  There are other options, even better options, which we mention further down.    things change fast in Vegas.  Before we tell you why let us preface it all by underlying that, if you want to go to a buffet in Vegas and it's a weekend, you are going to be spending a bit of money.  Ok, let's talk about the Main Street Station buffet:
It was voted the best downtown buffet several times in the past (no longer the case, since Golden Nugget is perhaps a bit better but not in terms of variety); its greatest feature is that, over the weekend, it's a choice if you are on a budget; the problem these days is that its food is no longer good enough for us to recommend it. This unfortunately leaves downtown visitors with practically no real buffet choice; they are all affordable but none of them are good enough, in our opinion. The Main St buffet is only a good option if you want to fill your stomach and don't care too much about quality of food cooked in a delicious way. For that, we'd recommend Studio B, Palms and Red Rock in that order.
Before continuing with food and dishes reviews, we feel a few words need to be spent mentioning how absolutely delightful-to-the eye this hotel and casino is (in a historical sense)! It's a real museum and, if you ask at reception, you will be given a guide to all the museum pieces scattered around the hotel, the restaurants and the casino: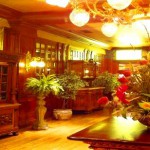 We like it because, as you approach downtown (just before downtown, actually, as you travel North from the Strip, roughly speaking), you will meet a piece of history which is a must-see if you care about what the US used to be like in the true, old, wild-West! The Main Street Station hotel and casino, true to its name, has several ancient train carriages on display (authentic pieces of history!) where famous historical figures stayed during their adventurous train journeys, such as Buffalo Bill!  Update: unfortunately the main one, the one which was on display outside, has been moved and has a new owner, sadly.  But you can still see some carriages inside the resort itself.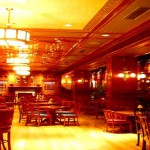 It's also a pleasant surprise if you want to absorb, visually, what an old (yet classy) hotel/casino (and hotel foyer) used to look like! Take a look at the entrance by the reception area and one of their bars/restaurants (photos above, though we have more photos in our must-see sections ) and of the rest of this museum-like-casino on our Real Vegas Videos page.
The Food at the Main Street Station Buffet in Vegas:
It used to offer a huge variety of dishes but these days (2013 update) the range is much more limited and the taste is on the low-quality side in general. Because it's not a great buffet (although it's a cheap one), the line ups are not significant with the exception of a few special dinner times.
The salad station is basic though decent enough for those who don't care about gourmet salads or gourmet vegetables; during our last trip they offered artichokes, though, which is probably the best 'gourmet' food at this buffet; you can make your own salad with the several ingredients available here besides the delicious artichokes (such as tuna mix or a seafood-crab imitation mix); of course, if you care about a good salad the best place to go is still the Mirage buffet, because of their made-to-order salad (with delicious additional ingredients) though among the affordable buffets Palms has a great ready-made Caesars and Tabboulleh, Studio B has a great salad with salmon (already mixed), Asian-style, and Red Rock is the only Vegas buffet which still offers higher quality lettuce (radicchio-style) rather than the same boring iceberg and romaine. As per the rest of the food at the Main Street Station buffet, you'll probably find all you expect to find at low to average buffets: rotisserie chicken, Mexican, Southwestern dishes and a small Asian section with a few dishes which definitely need improving.
Almost every dish is quite average to low quality: fresh fruit, pizza, fish, a meat carving station, and a standard (at best) dessert section. But, for such low prices, it's a good deal nonetheless for some, especially (as I said), if you don't mind the lack of quality and cannot leave downtown Vegas for whatever reason.
Lunch here ends at 3:00 pm and the food is removed at 3:20 in preparation for dinner. Hugely annoying. I don't understand it since even the best buffet in Vegas, namely the Bellagio, does not dare to do that! Customers are asked to leave by 3:30. Not great; we prefer roll-overs, though most budget buffets do not offer it and will therefore have a gap between lunch and dinner. However, the price is so cheap for a weekend lunch that we actually don't mind! A few examples of what you will find:
The Main Street Station buffet offers specialty nights such as T-Bone Tuesdays, Steak and Scampi Thursdays, Seafood night on Fridays and Prime Rib on Saturdays, and the ubiquitous champagne brunch on Saturday and Sunday.
In summary, the delight of the museum-like hotel and casino will probably overshadow the less-than-exciting (to say the least) experience at this cheap (in every sense of the word) Vegas buffet. But, given the steep weekend buffet prices of many other establishments, if you are bound to the downtown area of Vegas, you may not regret that you went, especially because of the visual experiences the hotel and casino offer (see photo below as example).  We have video reviews of this historical hotel & casino as well as of this buffet in our Vegas Videos Section. Don't forget to ask us if you don't see a video you would like to see.  Below are also its hours and prices.
There are other affordable options, of course, such as the beautiful Red Rock buffet and the very best Studio B at M (not as super-affordable as the rest, but it's so good and so huge you won't think twice about paying the price) and the not-so-great but affordable buffets part of Boyd Gaming, such as Gold Coast, Orleans, Fremont.
Hours & Prices of the Main Street Station Buffet:
Garden Court Buffet Breakfast
Monday – Friday: 7:00am – 10:30am $6.99*
Garden Court Buffet Lunch
Monday – Friday: 11:00am – 3:00pm $7.99*
Garden Court Buffet Dinner
Sunday: 4:00pm – 10:00pm $10.99*
Monday: 4:00pm – 9:00pm $10.99*
Tuesday T-Bone Steak: 4:00pm – 9:00pm $13.99*
Wednesday: 4:00pm – 9:00pm $10.99*
Thursday Steak & Scampi: 4:00pm – 9:00pm $13.99*
Friday Seafood Buffet: 4:00pm -10:00pm $21.99*
Saturday Prime Rib Special: 4:00pm -10:00pm $13.99*
* if you sign up for their Be Connected Players Card (free and easy once you are at the casino, just go to the Be Connected Desk), you will pay the lower prices marked here.
Buffet prices do not include tax, and are subject to change. Please check with them over the phone in case they have adopted a last-minute change.
Location:  200 North Main Street (Downtown Vegas)
Best 10 Vegas Buffets (including affordable ones)