Bacchanal Buffet Review + Hours & Prices
Bacchanal Buffet Review: enough is enough; yes, it's a flavorful buffet; yes, it's fun and extremely busy; it also looks beautiful.  But you can never, ever eat your money's worth unless all you pile up on your plate is seafood.  Not all dishes are great and lots of corners are cut. Let's go into detail:
It is still one of the better buffets in Las Vegas (unless you want healthy foods); you will find a large variety of meat and a decent variety of seafood (especially for dinner); the Asian section is abundant though collapsing in finesse (a bit drier than previously with much less gourmet sauce), decent pizzas and pastas (but super heavy, far from authentic), a decent cheese section with at least one expensive (Italian or French, depending on the day) type of cheese; a decent deli meat section (with lesser quality meats these days), a very popular Mexican section with made to order meat tacos for dinner.  An almost non-existent salad section and a shocking juice section which everybody fights for but does little more (in our opinion) than give you water and sugar (though on our latest visit the juices were slightly improved):  we dug deep after their superficial statement 'its' all natural' and asked them exactly how the juices are made: the answer was 'from syrup and water'.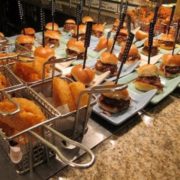 The flavors are still there but the attention to making every dish so heavy so that (we suspect) people cannot eat more than 2 plates is so meticulous that we come back to the first and foremost issue:  it is not worth the money, since you can find equally (I would say even much more) satisfying buffets (and equally large & fun) somewhere else.  More on these further down.
Ambiance and Decor (Bacchanal Buffet Review)
Certainly visually beautiful, modern and comfortable, with a great display of so many dishes which, psychologically, will entice you to think very positively of this buffet; I see people dancing around as if they were at the best food feast of their lives.  It 'feels huge' (though it really is not larger other buffets and definitely not as large as Studio B!) but, because of the layout in 2 main rooms, you'll find yourself walking somewhat to get back to the various food stations.  Bear in mind that it's always extremely busy and, for that reason, you will line up somewhat at its entrance and line up significantly before the Mexican Taquitos station and the meat station; at dinner, you will line up for the seafood station.  Some people play on their phone/tablet as they line up for the most 'popular' stations and, at times, by the time you arrive the food has gone and you'll have to wait for a refill.  The music played is very pleasant 'chill lounge' (but this can change without notice), which we thought was a nice change from most other buffets.
We think your reaction to Bacchanal largely depends on what your taste buds are used to, what your expectations are and what 'gourmet' means to you.  We love food cooked in a truly fine manner, not swimming in unnecessary 'bad fat' or starches or unnecessary sugar, not overloaded with sodium yet, of course, flavorful and authentic to the cuisine it purports to be; however, such high expectations are hardly met at all-you-can-eats (not even in Vegas, where they are better), with the exception of a few single dishes here and there such as the tuna steaks at Aria or the seafood Thai at MGM Grand weekend dinner of late, the curries, the lobster soup and the light yet mouth-watering gelato at the one-and-only Studio B (M).
 Bacchanal used to excel in the Sushi it offers (not dry, great texture and flavors as well as variety) and the flavor of some of its very heavy dishes.  They also provide a decent made-to-order crepe with a delicate, super thin base (but this can vary from day to day), decent quality chocolate; a good variety of  flavorful dessert options and a beautiful-looking seafood section for dinner (but if you want seafood, read our Best Vegas Seafood buffets page).  But it's never worth the price tag.  For the ridiculously high price I'd expect quasi-gourmet quality food which does not require triple-strength digestive enzymes or detoxifying tea to help one's liver to digest the heavy fats, starches and (we suspect) less-than-good-quality oils.  For the ridiculously high price I also expect a truly large variety of dishes for all tastes, which is not the case at all (I was hard pressed to find a single vegetable-based dish, for example).
People seem to love the deep-fried chips & crisps section (a trend which we think Bacchanal started but that's been copied in many other Vegas buffets) and of course the large selection of meats; but, aside from this, these days there's not much to write home about.  Check our Vegas videos section because soon we'll post our most recent video review of this buffet.
 Bacchanal buffet review: more things you need to know about Bacchanal
Bear in mind that you can only stay up to 2 hours at this buffet (only), which is not as easy as it sounds given the line ups and if you wish to sample everything without passing out from overeating fast.  Having said this, the 2-hour limit is becoming a trend in many Las Vegas buffets.  Also, even if you purchased a 24-hour Caesars Group buffet pass, you will have to top up every time you go to this buffet, by about 20+ dollars per person (but check this since it can change overnight).
Long line ups. You may encounter a frustrating line up to get in and crowded line ups to get your food from a station; the seafood, Mexican and carving station in particular can have irritating line ups.  Is the line up a sign of how good the buffet is?  Besides perception and hype (some buffets are hailed because perceived and visually expected to be excellent, but they are not really so), in our opinion it's largely because Caesars Entertainment offers a 24-hour buffet pass (but read our note on the additional charge just above) and, once you've eaten at the beautiful though not so large Paris buffet and at the larger but not-so-good Planet Hollywood buffet, Bacchanal is the other choice, unless you happen to be staying at or near the much improved, huge Rio buffet.  In fact, if you have purchased a 24-hour buffet pass with the Caesars Entertainment group of Vegas resorts, then Caesars Bacchanal will be part of your top 4 choices; before you go, phone the buffet and ask if you have to pay an additional 20+ dollars per person to get into this buffet even with the buffet pass; if so, think carefully before going, weighing the pros and cons.  Other nearby buffets may provide an excellent and more affordable alternative.  Double check our top 10 list of Great Vegas Buffets, which we keep updated all the time.  Let's continue with our Bacchanal buffet review:
Maze-like and confusing'.  Not a straight-forward layout but rather an area with separate, island-like stations, all feeling a little 'cramped' (unlike, for example, the huge Rio or Studio B buffets; some dislike this layout, we actually don't mind at all and find that this layout makes it look and feel like a real restaurant, though some stations are far too crowded and line-ups an unpleasant necessity.
Those Juices aren't up to par.  These days their juices don't seem to be 'real', if by 'real' we intend 'freshly squeezed' or even naturally made from natural concentrate without added sugar (etc), as we discussed in detail further up.  This is not worthy of the great Vegas buffet Bacchanal purports to be.
Food – Dishes Summary (Bacchanal Buffet review). Popular seafood which includes oysters for dinner; the many gourmet soup choices of the past have been reduced to a couple of standard quality soups full of cream (broccoli, tomato, clam chowder) and an onion soup (but at times there are only 2 basic soups of average quality); formerly a great deli meat section, but these days the expensive Italian prosciutto and Italian Bresaola were nowhere to be found and instead, there were Capicollo and Salamis;  a large and highly popular meat section with all the cooked meat you can dream of (in many different ways) now including some strangely popular animal spine bone (osso buco, I think – I would not go near it, though since the animal is dead one may as well eat it all); a large deep-fried section which includes heavy French fries and heavy sweet potatoes fries (they are thin so they absorb all the oil in the world); an authentic Mexican section (which includes made-to-order meat tacos accompanied by a good variety of condiments); a modest Italian section with decent pizza (thin but chewy base, decent-quality toppings); a large abut not-so-perfect Asian section with some 'delicacies' such as chicken feet (it made me want to run away, but again, since the animal is dead one may as well not waste anything…).  A highly disappointing salad section (the worst I've seen in any Vegas buffet) and a very poor salad toppings section.  Every time we write a new Bacchanal buffet review, we can only conclude that keeping you with a 'heavy' stomach is the goal here.
Healthy or vegetarian options at Bacchanal?
None.  Nothing worth eating if you like green or healthy food.
Hours & Price Bacchanal Buffet Review
Breakfast (7.30-11am) around $31 + tax. Lunch (11am-3pm) around $40 + tax. Dinner (3pm-10pm) around $45 + tax. Weekend Brunch:  $50 + tax. Weekend Dinner: $56 + tax. As with all Vegas buffets, please call them before you go to make sure the prices are still the same, since they can change without notice.  Our Bacchanal buffet review is only the beginning of a 'best feast' ever strategy in Las Vegas.  We think the following pages will help you too:  
Best 5 Vegas Buffets  –   Best Vegas Buffets for Seafood  –   Best Vegas Buffets for Meat Lovers  –  Best Vegas Buffets for Dessert Lovers  –  Fancy Vegas Breakfasts  –  Best of Las Vegas – Real Vegas Videos