Mandalay Bay Buffet Review
Updated Mandalay Bay Buffet Review. It used to be great, years ago, before they changed their target market.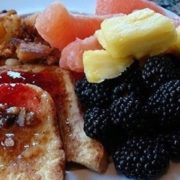 Since the change, however, they seem to have decided to serve average dishes of average quality and provide a very limited range of choices.  It is better than before but, as it is, it does not make it into our top 5 Vegas buffets.  Not even close.  Having said this, there are a few dishes which, on our latest visit, were very well prepared, and a few excellent items which you will not find anywhere else:
There may be reasons why they have abandoned a gourmet-style offering to embrace a run-of-the-mill, limited set of dishes (at best), but it's disappointing nonetheless, especially given the location (namely, the fact that there is no good buffet nearby except (maybe) for MGM Grand (which is not exactly 'round the corner!).   Luxor has improved somewhat these days (after years of serving a horrible buffet) and may provide a decent alternative, though the dining area at Mandalay Bay is simply stunning.
The Good Aspects (Mandalay Bay buffet Review):
The bright (mostly), large, elegant decor and atmosphere of its beautiful dining rooms: they are all large, elegant, have large marble or granite tables, polished marble floors, all with plenty of foliage throughout to give it an extra touch of class and add a relaxing-looking feel to it all. Moreover, seating is spacious (plenty of space between tables) and very comfortable, as well as (in some sections) somewhat partitioned in order to offer a real feeling of intimacy, which is unique to this buffet!  Having said this, there are some darker areas though the seating is still comfortable.
As you enter you would be forgiven if you though you had just entered a very exclusive restaurant rather than a buffet! If you can, always go to the brighter rooms at the end which enjoy huge windows overlooking the tropical water gardens (leading to their beach, a real beach they created, and other pools). When we are there we often feel as if we're dining at a high-class tropical resort, furnished in a rather elegant colonial style. This was particularly the case in the 'glorious days' when Mandalay Bay was a highly exclusive, expensive resort.
The service (Mandalay Bay buffet review): usually good. But, all the gorgeous and generous trimmings we used to receive when simply asking for a pot of tea are no longer served. They used to have freshly squeezed orange juice, though these days all Vegas buffets seem to prefer concentrate (when you are lucky); however, the Cosmopolitan breakfast buffet does serve freshly squeezed juices in the morning, mixed with water).
Food in a nutshell: Chicken, chicken and chicken and… More chicken.  Some pork too… Fish lovers will be disappointed.  Vegetarians and healthy eaters may like the salad bar with artichokes and the well-above-average fruit bar with blueberries and blackberries (a real rarity in Vegas buffets), but nothing else.  Breakfast serves the best French toast I've eaten in Las Vegas (buffets).  They serve it as 'sticks'; delicious.
What's the Food actually Like? Mandalay Bay Buffet Review
Good fresh blueberries and blackberries at breakfast, at times mixed several other types of fruit; if they don't have them,  all you have to do is ask nicely, and they will usually bring some over for you. Their fruit section is actually much better than average.
The appetizers section includes smoked salmon, blue cheese, capers, pickles, artichokes (this in the salad section) and soft cheese.  This allows you to create a really great made-to-order omelette (if you are adventurous, pick the ingredients yourself and ask nicely), or simply to enjoy a touch refined culinary pleasure (certainly compared to many other buffets).
At the other end of the buffet you will find, especially if nearing lunch (and here you can enjoy the beloved roll-over, namely no break between breakfast and lunch, so you can enjoy both) a good salad bar with a good range of lettuces (none of the 'plastic lettuce' you find at cheap buffets); they used to provide extra virgin olive oil (and not the usual dubious 'blend' of oils), but I was told that what they offer is only 'olive oil', which is however a step up from many other Vegas buffets; you'll also find good balsamic vinaigrette and a plethora of other great good dressings, as well as blue cheese. Here you will also enjoy (if you like healthy delicious foods) marinated artichokes (of a lesser quality than in the past, but at least they are still there as a great addition to your self-made salad, though they could use some Kalamata olives!)
Once you have indulged in some healthy, nutritious and and still decent (though not great) options, one used to be able to savor extremely tasty yet delicate sausages and other great cooked food.
These days, however, you will find seafood favorites (crab legs, snow and king, un-cracked, as well as shrimps – this selection will be present on 'specialty brunches' for sure, or on Fridays, Saturdays and Sundays; a ridiculous number of chicken dishes (far too many), plenty of sausages, pork and some turkey.  Fish lovers will be heavily disappointed, since there is actually nothing to eat, definitely not for lunch or brunch.  At breakfast and brunch you will have the ubiquitous made-to-order omelette station; when this changes into made-to-order pasta (average-quality North-American style with equally average sauces), you'll at least enjoy real olive oil, which is much better than the dubious oils some other buffets use.
Other dishes: there were no real cooked vegetables and the few (collard green and some steam broccoli and cabbage) tasted either plain or simply awful. If you are into healthy foods, go to the very beginning of the buffet (near the entrance) and you'll find red coleslaw (tasty) and large cous-cous (not so great).  There was no pizza.  The Asian section was small but the rice noodle (Pad-Thai inspired) dish was tasty and nicely cooked.
Free Alcohol or Not?  You can enjoy unlimited alcohol for an additional price, which is what you will find in most Vegas buffet; this is a good idea, since buffets offering free alcoholic drinks included in their 'base price' have significantly declined in quality.
Drawbacks (Mandalay Bay buffet review): although the dining rooms are very large, spacious and comfortable, the actual food stations are small (you won't have the vastness of the M Buffet or the Rio Buffet, for example).
Another drawback is the dinner price, though by far not the most expensive; if this weren't bad enough, however, they do not offer a roll-over between lunch and dinner, so there is a ridiculous and inconvenient gap between 2.30 and 4.45. We think it quite unacceptable to have such a huge gap in a busy environment such as Vegas. Lunch ends far too early (2.30pm, which is when some people wake up in Vegas!) and, if you are late, you are left waiting for quite some time for dinner. At Mandalay Bay this is particularly inconvenient since it's so far South, making it very difficult to opt for other buffet options.
Hours & Prices (Mandalay Bay Buffet Review)
Note: before showing you the price they advertise on their own website, I walked in on a Friday morning and I was actually charged for a 'week-day brunch' (I have the receipt to prove it).
Breakfast: 7am – 11am $18.99 per adult (12.99 for children 5 to 12) + taxes
Lunch: 11am- 2.30pm $21.99 per adult (13.99 for children 5 to 12) + taxes
Dinner: 4.30pm-9.45pm: $32.99 per adult (21.99 for children 5 to 12) + taxes
Brunch Saturday and Sunday: 7am-2.30pm $25.99 per adult (20.99 for children 5 to 12) + taxes
I recently walked in on Friday and I was charged 'brunch prices' rather than regular lunch prices.  This spiked the price to around 28 dollars (after taxes)!  Definitely NOT worth it, compared to much better buffets in Vegas.
As with all other buffets or restaurants in Vegas, prices and times can change suddenly and without notice; seasonal changes also apply (they happen more often than we would like); we therefore recommend you check with them by phone: (702) 632-7777
Location:  3950 Las Vegas Blvd. South  (South Strip, the last property in the South Strip 'tourist area' after Four Seasons). If you enjoyed this updated Mandalay Bay buffet review, you will probably find the following pages useful too:
Best Buffets in Las Vegas, including affordable ones  –  Las Vegas Coupons Easy Guide  –  Best Meat Buffets in Vegas  –  Best Vegas Buffets for Seafood Lovers  –  Best Vegas Buffets for Dessert Lovers  –  Jules' Latest Vegas Videos