Pop Slots Strategy on myVegas for L.P.
Pop Slots Strategy. For myVegas frustrated players (frustrated because chips seem to vanish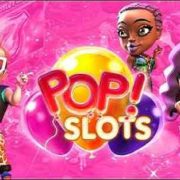 quickly and amassing loyalty points seem to be a harder task without paying for chips) Pop Slots is now offering a better alternative.  It's a recent development given that initially it wasn't as 'generous' with L.P. as it is now.  I can now accumulate thousands of loyalty points for myVegas through Pop Slots very quickly everyday.  This is why and how:
1 – This point is still the same despite the latest changes (keep reading). The daily chips bonus used to be much higher than the pittance you got from the regular myVegas slots or even Konami.  The 4-hourly chips collection was also much more generous than the other myVegas games.  This means that you can quickly accumulate millions of chips.  Recently the revamped myVegas app (much messier, though) has copied this aspect but – because of the following point – any Pop Slots strategy will still be better:
2 – in the past it was difficult to gather enough loyalty points through Pop Slots.  But nowadays this game seems to have become more generous and you can easily amass 1000+ loyalty points per day in a very short amount of time.  All you have to do is 'pop' the violet balloon appearing often on the right side of the screen.  It will yield L.P. or chips or experience points.  Stick to the game long enough and you will see how quickly it will yield 50 Loyalty Points for each 'pop'.  Players whose experience level is very high, may not receive 50 L.P. per 'pop' if they are betting very low.
So, this is the Pop Slots strategy I adopt:
I choose a game which has a very generous bonus.  These are bonuses which allow for massive multipliers or sticky wilds / stacked wilds.  I bet high enough to make sure the popped balloon on the left yield no less than 50 loyalty points per pop, but I don't play higher than that, otherwise I run the risk of seeing all my chips disappear fast.
The objective is to collect loyalty points, right?  So, if you have collected thousands of loyalty points in one session, don't despair if you have run out of chips because, as you know well, you will be receiving another huge amount through the daily bonus and the chip collection tab which appears every 4 hours.
If you have hundreds of millions of chips as I did at one point, do not be tempted to bet ridiculously high (over 900,000 per bet) because you will run out of chips and the L.P. given to you per pop won't increase.
myVegas strategy  –  myVegas Rewards Tips and Tricks  – which myVegas rewards are better?
On this Facebook myVegas group we post free chips and Vegas updates.