Bellagio Nightclub Lounge: Hyde
This lounge is an indoor-outdoor nightlife venue and, when you visit, you may hardly think you're at Bellagio!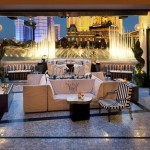 Bellagio's Italian Northern Lakes theme of classical elegance is not entirely forgotten, but Hyde Lounge ads a stylish, modern, city-chic look & feel to the classical beauty of the Bellagio resort.
Hyde Lounge and Night Club is a 12,000-square-foot venue, boasting a large terrace offering breath-taking views of the  famous Bellagio fountains; here you can actually see the fountains from 'behind', whilst still being quite close to ground level, thus offering truly unique and exciting water & light views.
Though inspired by the style of an opulent Italian villa, Hyde is also very modern and atmospheric.   It now functions as an 'exclusive lounge' until 10pm and, after 10pm, it operates as a nightclub.
Well worth checking out if you are staying at Bellagio. More information on the resort's website; schedules on their own Hyde schedule page.