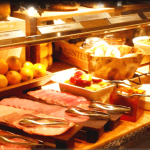 It used to be one of the very best, then it seems that management decided to appeal to a 'wider' audience with free alcohol and… Of course something suffered.
We used to eat at Mirage Buffet often and we were never disappointed; we could recommend anything and everything.  This time, however, on our latest trip, something was not right.  We did not see the friendly and professional chef and sous-chef checking all the stations; in fact, the overall atmosphere seemed to have been, at the various food stations, that of detachment, unlike the pride we encountered on our previous visits.  But let's be more specific, because there are still some lovely dishes you can enjoy here:
atmosphere, service and line-ups – the atmosphere is probably the best of any Vegas buffet: very spacious, tranquil, wide stations, excellent service.  The lights are dim overall (and the music is not blasting) so you can sit down and relax whilst eating. At Mirage you will rarely find line-ups, so you will quickly find yourself seated at one of the many, spacious tables with comfortable chairs, always distant enough from your neighboring guests.  The service is very good, friendly yet attentive; unlike most other buffets, they work as a team here, which means you will be served quickly and efficiently! Probably one of the few establishments where I am delighted to leave a tip! You will also enjoy not feeling rushed, unlike some other buffets.
free beer and wine from breakfast to dinner:  yes you read correctly!  Mirage management have decided that the best way to attract new customers is to entice them with free alcohol.  I am not sure that free alcohol at breakfast (for example) is the best thing to offer; I suspect freshly squeezed juices and fresh yogurts (for example) may be better received… However, some of you will be very pleased I am sure!
salad section:  definitely declined in quality and variety.  No longer made-to-order, you now have to struggle with the badly-labeled ingredients & dressings using the small bowls available; the outcome is similar to what you can create at any average buffets.  They still have artichokes (though the cheapest kind you can find, but still welcome) and Kalamata olives, but the rest is very much standard.  The oil I saw did not look like 'real' olive oil either; it may have been a mix.
Free unlimited beer and wine has clearly caused other areas of the buffet to suffer; they no longer offer crab legs for lunch.
More on Breakfast at the Mirage buffet
It used to be excellent and fresh & catered to all palates.  On our most recent visit, it was average at best, served without their traditional pride; you can still enjoy good quality Atlantic salmon (personally, after the nuclear disaster at Fukushima, I only eat Atlantic salmon, but of course it's my own personal choice) and a good quality selection of cold deli meats such as mortadella, salami and the expensive, high-quality, healthier yet tasty prosciutto, which was displayed on the cusp between breakfast and lunch (but was welcome nonetheless). But what I liked the most, surprisingly, were the fresh orange and grapefruit slices, clearly fresh and not from a tin (which happens often enough in Vegas buffets): the texture and flavor were outstanding.
The made-to-order omelette station, which is now open through lunch, serves 'standard' eggs (not free range, a rarity in Vegas buffets, something that may disappoint European visitors) and standard omelette fillings, though you can create your own by going to the deli or salad section by picking up items such as smoked salmon, cream cheese and artichokes.
The breakfast burritos, served in the Latin section, are still delicious, thankfully, wrapped in a wafer-thin tortilla and filled with tasty ingredients; sadly they were one of the very few items served warm at this former-king-buffet:  most other dishes were lukewarm at best and at times completely stale.  This could have been acceptable at some average South Strip but not at Mirage!
Besides bacon, chicken sausages and a huge, spicy Portuguese sausage, all deserving a 7 out of ten generally speaking (could have been better if they had been served hot or very warm), you will cereal, pre-package yogurts and basic, run-of-the-mill American breakfast items.  However, all in all, the choice is limited.  Unlike in the past, I walked around several times hoping to find something special or something particularly well cooked.
Guacamole and Pico de Gallo:  served at both breakfast and lunch, they are luckily still delicious, made in-house thus fresh and authentic.
Drinks at the Mirage Buffet
 They now serve free alcoholic drinks at their modern and friendly bar section and, with the introduction of their slick, state-of-the-art self-serve section, you can get your own drinks even more quickly; luckily, they offer plenty of choices for all tastes and requirements, hot and cold, including average quality orange juice (made from concentrate), good quality sparkling water with or without lemon/lime, organic teas and a decent self-serve cappuccino section (though nowhere near as good as the cappuccino section at the M buffet).
Mirage Lunch Buffet notes
Pasta, rice and won-ton:  they used to serve mouth-watering fagotti (similar to tortelli) with a wild mushroom filling, and other deliciously prepared pasta dishes; well, this time they only had one pasta dish and, whilst the sauce was still good, the pasta itself was horrendously overcooked (and so were all the rice dishes as well as the won tons).
The delightful fish-and-chips, served in a bowl, is still there and it would still be worth the trip to Mirage, if it weren't for the fact that every single serving was not warm enough.
For lunch they used to serve a mouth-watering made-to-order panini selection; now, they have the deli meat & cheese section instead (basically the same as for breakfast except they add good quality prosciutto).
Pizza:  it was either stale or grossly under-cooked; we enjoyed the thin crust but they should have really named it 'raw crust'.  For decent pizza you have to go to the Bellagio buffet.
Rotisserie:  it has stayed the same but again the meat was not serve as hot as it should be.
Crab legs and Seafood at the Mirage Buffet
Crab legs are no longer available for lunch but you can find shrimps.  The fish selection, actually, was rather limited.  We noticed that a whole station area was missing and was instead completely covered; hopefully this means they are renovating and that, after the renovations, they will resurrect this now-neglected buffet.
Crab legs are of course available for dinner.
Clam Chowder:  nothing special, sadly.  They used to serve a mouth-watering Manhattan chowder as well as the regular clam chowder, next to a heavenly butternut squash as a vegetarian alternative:  well, all that was left was an overly thick clam chowder, again far too cold.
Asian station (soups, bok choi, chow mein, fried rice etc) and Sushi (rolls and cones):  they both used to be great, but now they have been neglected in preparation and freshness just like many other dishes, rendering the Mirage buffet simply average.  For better Sushi cones you are left with the Bellagio or Todai buffets.
Note on Alternating Dishes  They alternate many dishes, so you can go one day and the next and not eat exactly the same way.  On the other hand, once they served such a great Italian risotto that we returned the next day but… They had a new dish for that day of the week.
The dessert section, which of course contains sugar-free offerings, is small but fresh and still very good, except that they now only offer a fraction of what they used to offer.  So, no mouth-watering home-made-style sorbets were available and, to add insult to injury, their 'gelato' was nothing but a cheap ice-cream dispenser, which you can find absolutely everywhere (in Vegas buffets).
Luckily their bread pudding is still gourmet-quality (they have their own recipe, apparently).
Gluten-free:  you will find a huge section of gluten-free options.  In fact, they are so eager to label everything as gluten-free that I found meat labeled as such (!), which is – to put it kindly – unnecessary.
Non-GMO?  I did not see the label anywhere this time.  That's a shame
I still saw no Stevia options in their dessert section.  Stevia is totally natural and tastes better than any other sugar substitute I have ever tried and it's truly healthy whilst being calorie-free.  I am still waiting for the Vegas buffet which will make the dessert section even more enticing through this type of healthy option.
In the past Mirage was one of the most affordable buffets in Vegas; unfortunately its prices have now been raised.  Free alcohol may be 'to blame'.
Take out Mirage buffet
You can take out as much buffet food as you can fit in their take out container for only 16 dollars. This is a great option for when the buffet is particularly expensive (weekend brunches, for example), since their take out price never changes. We have a dedicated page (with tips and tricks) on the Mirage Take Out Option.
Hours and prices may be subject to change as with any other buffet (though we always try to have the most updated information) so double-check with the establishment by phoning them on (702) 791-7111
!!!We have many videos of Vegas buffets and you can start by visiting our updated Real Vegas Videos page.
Hours and Prices of the Mirage Buffet:
Breakfast: 7:00 a.m. – 11:00 a.m. $18.99; Lunch: 11:00 a.m. – 3:00 p.m. $23.99; Dinner: 3:00 p.m. – 10:00 p.m. $29.99; Saturdays & Sundays Champagne Brunch: 8:00 a.m. – 3:00 p.m.$34.99  —  Taxes are added, so the total will be marginally higher.
Hours and prices may be subject to change as with any other buffet (though we always try to have the most updated information) so double-check with the establishment by phoning them on (702) 791-7111
Best 10 Vegas Buffets   –   Back to Las Vegas Reviews Tips & Tricks  –  Back to Vegas Buffets Star Ratings  –  Back to How to Get Free Stuff in Vegas