Must-Do Must-See in Vegas
Must-Do Must-See in Vegas: ok, so you are about to enjoy a fantastic trip to Las Vegas. Besides hotels, gambling and eating like royalty at affordable prices… What else is there to do in Vegas?
We have compiled a must-do must-see in Vegas list, in no particular order, some for free, some very cheap and others for a price. If you are only interested in activities for young people (such as thrill rides) and children (but which can be absolutely fun for adults and teenagers too), skip to To Do for Teens and Children in Vegas.  Let's start with 2 activities just outside of Vegas (well, one closer than the other); the ones in Vegas are following below:
♥ Outdoors, close-by activity: Red Rock Canyon (very affordable, a good 'Must-Do Must-See in Vegas').  This is an ideal break from the hustle and bustle of Vegas, one which will take only about 30 minutes there and back from either downtown or a major Strip location (and of course the time you will want to take to enjoy this natural wonder).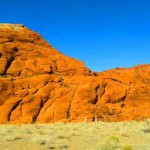 Whether you don't have time to do the Grand Canyon tour, or the money, or you have already seen the Grand Canyon, this is a great alternative.  On West of Las Vegas on Charleston Boulevard, it's ideal for those seeking a natural wonder, a short family trip or a place to relax and even meditate!
The cost to enter this beautiful area is about 7 dollars per car or visitor (many go by bicycle and it's a great place to cycle around, provided you have plenty of water, a good hat and good quality sunglasses!)
Outdoors, near-Vegas historical site: Chloride Ghost Town. Absolutely fascinating if you are into history and the 'Wild West'.  We have a dedicated page on Chloride Ghost Town (click on the underlined words).
♥ Grand Canyon (of course!), if you have time to go outside of Vegas.  For this go to our Grand Canyon page.  You can also enjoy alternative trips, such as to Hoover Dam with 'Ghost Mine' other canyon adventures.  We mention some of these on this page, but don't forget to do your own extensive research!
♥ The Fantastic Dolphin Habitat and Secret Garden at Mirage I don't enjoy seeing large animals confined in small spaces for any amount of time, but both areas are beautiful and the dolphins are simply amazing and heart-warming (the 'big cats' are beautiful too).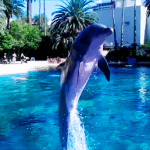 An affordable treat (about 20 dollars general entry per adult and a bit less if you actually stay at Mirage) for all ages. We have a video on the Dolphin Habitat, which you can access via the link placed further down this page, where we describe this great place in more detail (section titled Sharks, Dolphins and Tigers, towards the bottom of this page).
♥ Bellagio fountain show. Free. A definite must-do must-see in Vegas in the heart of the Vegas Strip.  Stroll along mid Strip and, as you enjoy the outside of beautiful resorts such as Paris, Bellagio and Caesars Palace (to a lesser degree, I think), stop to enjoy the fountain show held on the lake-replica of the Bellagio resort.  It shows every 15, 30 or 60 minutes (depending on the time of day or night and on the season), so just stop and wait for the show to start!  Make sure you secure a central, front position when you watch the show.
♥ Great attractions on the Strip you can enjoy for free. For both adults and older children.  For this section, we have a dedicated page which you can access by clicking on the highlighted title.
♥ Stratosphere Tower (North Strip).  It's worth visiting if you plan to go to the top of its tower and enjoy breath-taking views of Vegas.  The Stratosphere tower is 1,149 feet and is the tallest freestanding observation towers in the United States.  If you don't want to go by taxi, you can use the 'Downtown and Strip' express bus or the Deuce bus, since they both stop right in front of the Stratosphere resort and operate throughout the tourist areas of Las Vegas, including downtown.  Tower visits are about 20 dollars per adult, which is a low-to-average price for a Vegas attraction. 
♥ Silverton Aquarium (free must-do must-see in Vegas IF you are in the area). If you are driving and want to sip a nice drink whilst your children (or you!) enjoy a great, free aquarium showing more than just beautiful types of fish, then this aquarium is for you!  Every time I go I love it, and so does everyone else I see there!  Ideal family outing.  If you have a baby-sitter with you, you can leave the children by the aquarium with her/him and enjoy their casino (I always win there, so I am going to say it's one of my favorites!). See our Video of Silverton Aquarium by clicking on the underlined title, but don't forget to bookmark this page before you go!).  Whilst you are here you can also enjoy their very affordable buffet (details on this page).
It's south of the South Strip, after Four Season of course, but not too far.  It's a low building so keep an eye out for a tall sign, or just look for their address on a map, 3333 Blue Diamond Road, Las Vegas.  You can view the video we took of this aquarium.  One of the bars at Silverton showing its simple, modern elegance, is depicted on the nearby image.  
♥ Mirage Aquarium If you enjoy aquariums you will love the huge one at Mirage (Registration area).  It's free for all to enjoy, although probably meant to entertain and impress Mirage guests checking in or out.  Actually, because it's so beautiful, we never mind lining up to check in, it's always a pleasure! They have so many types of fish and other salt water marine life, we sometimes forget to check in altogether!
The following are must-do must-see in Vegas places to which we have dedicated special sections (otherwise scroll a bit further down)
♥  Sharks, Dolphins and Tigers: more on this page.
♥ Thrill-seekers:  go to this page
♥ Vintage Vegas seekers can read more on it on our Historical Vegas page.
♥ The Fremont Experience: more on this one on the Fremont Experience Page, where you can also read about the new Container Park.
♥ Top of the World Restaurant: situated on top of the Stratosphere tower, is a must-do must-see in Vegas if you care about enjoying the best views of Las Vegas; the food, the atmosphere and the service are very good too!  Varied dishes for all tastes.  Book ahead.  The location is North of the Strip but it's well worth a cab ride of, if you are on a budget, a bus ride (either the 24 hour Deuce bus or the modern elegant Express bus will get you here).
♥ Haunted Vegas: if you are into haunted places and tours, the best places to read about it are: http://www.hauntedpoker.com/true-hauntings.html  and http://www.hoteltravelcheck.com/haunted-hotels-las-vegas.html  and http://www.hauntedvegastours.com/
♥ Paris resort and Venetian resort (free must-do must-see in Vegas). These two resorts are absolutely fun to go to even for a short 'guest' visit, because they offer a great visual experience.  It's particularly indicated for first-time Vegas visitors. Stroll along mid Strip and enjoy the Paris resort outside and, above all, the very cute French village streets replicas inside.
You can also stroll just outside the Paris resort for the famous Mid-Strip experience, free and totally charming.  For a few dollars, you can enjoy a Parisian-style cafe experience whilst getting a tan in the Mid Strip area, facing the stunning Bellagio-fountain 'lake'.
One of those cute indoors 'streets' leads to its famous, picturesque Village buffet, and others lead to various restaurants, shops and stores.
♥ The Venetian resort has visual delights to offer outside and inside, replicating (albeit in miniature) the splendid city of Venice in Italy.  Absolutely a must-see if you have time to stroll around, if you appreciate 'visuals' and, of course, if you have never been to the beautiful Italian town of Venice.  Our Venetian in Vegas video hopefully shows this clearly.

You may also find it useful to read our Free Strip Attractions page, our Romantic Vegas page, our Haunted Vegas page, our Vegas for children page, our Fremont Experience page, our Mid Strip page, Ghost Town Near Vegas and our Peaceful Vegas Spots page.