Ghost Town near Las Vegas: Chloride
A Ghost Town near Las Vegas.  Totally free of charge! Ghost towns are absolutely unique to this area, especially from Vegas to Arizona to Texas, where you will find 'ghost towns of the wild West' historical period.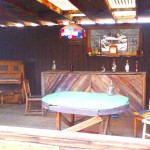 If you ever loved old 'wild West' movies, you will love the ghost towns scattered all over the area from near Vegas through Arizona to some areas of Texas; they are a piece of history. We were in awe when we visited some of the best ones: 
1) Chloride: a ghost town near Las Vegas. It's a mix between a barren area with a handful of current residents and an area where old buildings gather around an old 'village square': here you will enjoy the quintessential saloon (with tables, chairs and even an old piano), a sheriff's office, a jail house and several other old buildings including old stores displaying real bottles and other trinkets from another era; you can even pick up one (you're expected to leave a contribution).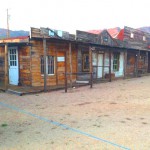 Chloride provides a movie-set-perfect area where you can breathe, live, walk and of course see what it was like to be in a small,'wild west' village. The beauty is that you will not find any of the 'tourist trappings' of a reconstructed old town like Goldfield (which was a disappointment for us because, among other reasons, the actual stores selling all sorts of things to tourist – for example – take all the magic away, as well as the heavy crowds). Chloride is the real deal and, as added additional interest, you will experience what is like to live in a tiny town in the middle of nowhere, surrounded by the desert (we're referring to the area where a few people still currently reside). Highly recommended if you like history and the 'wild west' without 'fake-ness' of Goldfield (to name one).
The moment you arrive, you know you've hit history; see the entrance sign! A Real Ghost Town near Las Vegas.
After that, you will simply be spoiled for choice in terms of imagery which evocatively takes you back in time, from the 'souvenir store' to the actual old buildings, including a saloon, a 'bank', a sheriff's office and a jail, all beautifully placed against an evocative wild west background.
On this page we have a few images which will hopefully give you a good idea; we have videos on everything-Vegas for those who want to see more. For now, we hope you enjoy these recent photos, taken by us during our recent car trip to Las Vegas, stopping at the (relatively) nearby Chloride.
Of course you can 'ask the small town directly' by going directly to Chloride's own web page, see the link further down. Meanwhile, if you found this page useful, please share (see buttons at the bottom of on the side of the page).
Chloride Own Page  –  Historical Attractions in Vegas  –  Alternative Attractions in Vegas  –  Must-see and Must-Do in Vegas