Hotels Downtown Vegas: Cheap & Good (p.2)
Part 2 (for Part 1, go to this page)
The Golden Nugget, though considered the 'gem' of downtown Vegas, is in our opinion at times overpriced and (as far as some rooms and services are concerned), overrated; it is worth staying here if you get a really good deal or if you are offered a VIP room in their best tower (and if you don't care for amenities like a gym or a spa – more on this further down);
this because we often find comparable or even better resorts at lower prices elsewhere, including the Strip and, unless you have specific reasons to be downtown, the Strip and resorts 'just-off-Strip are often the better option for visitors, especially if you have limited time and want to minimize the use of taxis or buses. If you stay in their more affordable tower (currently Carson), you need to be prepared for a basic (albeit well maintained) room, nothing fancy, nothing modern, nothing exciting; some of the rooms we stayed in oozed a very bad smell although it seemed to be a problem in a specific section of the tower only. Even if the bad odor were a temporarily issue in a section of the tower, the old and basic style of the most affordable rooms is simply not going to excite anybody for whom the hotel room is an important factor. Having said this, there are Golden Nugget aficionados who would not stay anywhere else; it must also be said that its overall atmosphere can be generally better than that of most Strip hotels, at least during low season (when hard-core, happy-go-lucky Golden Nugget lovers tend to flock though VIP invitations). Here you seem to meet very nice, cheerful regular people having a good time; we used to find many solo or business travelers here too, which made it more fun because they added variety to the otherwise 'same-old' guest format of couples, families or 'heavy-party-groups'. However, lately we found Golden Nugget inundated with families, probably because of the their popular albeit small and over-crowded tank pool, their water slide and the fact that their cheapest tower is affordable to all; the old reputation of Golden Nugget is always an attraction for some Vegas visitors.
Customer service at Golden Nugget is generally good, though I was very unimpressed by how slow the check in process was:  if you are a regular guest (a non VIP guest) you will be waiting forever to check in (unless the registration area is empty); its buffet, which may arguably be the better buffet in downtown Vegas (but nowhere near good by the standards set by the best 10 Vegas buffets), takes pride in having long-term servers who truly make you feel as if you were in a restaurant rather than in a buffet.
The remodeled main tank pool area of Golden Nugget definitely appeals to modern youth and families. However, as mentioned, I don't think their prices are competitive all the time, unless you get a good deal through your players card or through various 'niche' Vegas hotel sites. We have a couple of videos of the Golden Nugget pool on our youtube Vegas channel and you'll see it's relatively small, but it's now modern and appealing in many ways (the waterfall, the aquarium, the water slide and some comfortable beds area), though it tends to be particularly over crowded so, if you want to relax, I would not say it's the right pool for you. A down side of the tank pool is that, being surrounded by buildings, it tends to have fewer sun hours than in other pool areas.
Another disappointment for those who like spas and gyms is that you'll have to pay extra to use them (even the fitness room will cost you around 20 dollars per entry, which is totally the opposite of current Vegas trends, especially downtown). All in all, if it weren't for the chaos we experienced lately due to the huge influx of families, I'd say Golden Nugget could be a fun downtown resort to stay in provided you get a good deal and don't care about the gym or a gourmet, varied buffet.
Our youtube Vegas channel has (and will have in the near future) new & videos of Golden Nugget.
Main Street Station is a real gem and no matter what you do I would recommend you pay it a visit. It is situated in the downtown Vegas area but it's worth a visit because not only does it offers great deals often (and their rooms and suites are really nice, in light contemporary colors and tastefully decorated) but, above all, because it provides a journey into history; all you have to do is look at their beautiful, historical decor (no imitation but rather a real peace of history!):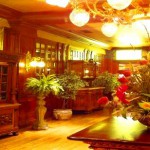 Image on this page: the beautiful interior of the Main Street Station hotel and casino. Our youtube Vegas channel has (and will have in the near future) new & updates videos of Main Street Station, inside and outside. Do not hesitate to ask us if you want to know more about Main Street Station.
The Plaza hotel in downtown Vegas
This downtown Vegas hotel used to be very dated and depressing. It has now undergone significant remodeling and it's now much more appealing. It's prices are still very competitive and, with their 24-hour gym and other perks, it's certainly worth considering. More details on this hotel are on the Plaza Hotel Vegas page.