Vegas Buffet Deals & Buffet Coupons
Vegas Buffet Deals. For those of you who came to this page seeking details on the MGM buffet pass, please go to our Vegas Buffet Passes Tips page.  For those of you who just want a quick list of this week's best & recommended Vegas buffet deals, go to our Vegas Deals of the Week page (bottom section).  For those who want to know the latest on how to find good quality Vegas Coupons, click on the underlined words. Otherwise, for tips & tricks on Las Vegas buffet deals, keep reading!
Some of the 'average' buffets (and a couple of good ones) are often discounted through coupons (25 per cent off and similar) you can purchase online and on the Strip, including the buffets at Rio, Flamingo, Planet Hollywood, Monte Carlo, Stratosphere, Rio Seafood buffet and Craving buffet at Mirage (for a full review of these buffets, go to our 2nd menu on the left). These coupons can be purchased via tix4tonight (on their website and through their various stands on the Strip), for example; but:
Tips on Coupons for Las Vegas Buffet Deals
When you buy a coupon be aware of the current price of the buffet or restaurant you want to go to; calculate how much you are actually saving, since many 'coupon sites' add a fee for themselves. More further down this page.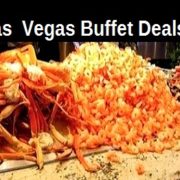 Generally speaking, the best deals are during low season (roughly from November to March except for hot dates such as New Year's Eve or Christmas, which is becoming a more popular time to come to Vegas than in the past). But you can still find good deals on high season. But beware: there are dozens of websites purporting to offer you the best Vegas deals. In fact, most of them are regurgitating groupon-like deals or deals you can find pretty much everywhere; so, shop around by all means but, if you are in a hurry, we'll give you a list of the most reputable Vegas websites offering you reliable information and deals (further down) but, if you are interested in coupons only, our page on Vegas Coupons will give you all the information you need to find the best value. The best deals are free passes or entries, of course, especially if you consider that buffets can be a way to entice potential casino players into various Vegas casinos (since we always have to walk through the casino before getting to the buffet and, when your belly is full, it's very tempting to sit down at a slot machine!)
myVegas: the best Las Vegas buffet deals?
Among the best deals during high season for any MGM Resorts in Vegas are offered through myVegas; here you can play for free and accumulate points very quickly, enough to redeem free buffets and even free hotel rooms. If you are after freebies and you want to stay at a very nice MGM Group hotel, myVegas offers a quick and cheap way to do so. We explain all of this on our dedicated myVegas Tips & Tricks pages.  However, if you plan to 'comp' your stay you may want to read our page 'myVegas not so rewarding lately'; moreover, anybody not staying at MGM Resorts will find it near impossible to use their Las Vegas buffet deals, especially lately, since a MGM resorts stay is very often required.
Groupon Deal Trick
If you have not signed up to Groupon before, this is what you can do to get a 2 for 1 buffet deal (and an additional 10 dollars discount) in Vegas: sign up to Groupon and wait for about 3 days (don't buy any offers they will email you in the meantime). You will – generally within 3 days – receive a 2 for 1 Vegas buffet offer with an additional 10 dollars discount. This makes it for a very nice deal. However, generally speaking, we found that the so-called 2 for 1 Groupon buffet deals (as well as other 2 for 1 Vegas coupons) are not really 2 for 1, unfortunately: you actually end up saving, in the end, about 6 dollars per person (unless you have just signed up as explained, in which case you will save about 13 dollars per person).
Flamingo Buffet 50 per cent off deal for lunch (low season only). If you walk around Harrah's, Linq and Flamingo, you can often find people distributing coupons from Caesars Entertainment Group. One of those coupons is for 50% off lunch at Flamingo. Before you choose to go, we recommend you read our review of the Flamingo buffet (with a link to our video).
Which Las Vegas buffet deals offer the best value; which websites offer the best Vegas deals altogether?
If you can go off Strip, the best buffet deal you can find (not too far from the Strip) is still offered by the Palms Resort buffet, even though we recommend you read importat updates on this buffet through our dedicated page (click the underlined words).  Their price for the usually expensive weekend brunch and dinners are still very competitive, especially considering the good quality of the food (though there have been changes lately).
♦ ♦ ♦ ♦ ♦ Reliable websites offering you Vegas deals (especially dining and show deals) consistently, the best ones are smartervegas and vegas.com, although as we said elsewhere i4vegas is great for room deals. In recent months I have seen good Vegas deals on crowdsavings.com: go to the website and type 'Vegas' on their own search engine; their current deals will show up. On Vegas.com I often find a 'celebration' deal, namely deals specific to the celebration dates which are upcoming. Again, feel free to ask us about other websites you may be considering (for deals), before you commit to purchase.  As per strictly coupons, a good site at present is destinationcoupons.com/nevada/las_vegas/las-vegas-coupons (copy and paste this on your search engine), as we mentioned on our Vegas Coupons page.
Other Las Vegas Buffet Deals: Caesar's Entertainment Group (Paris, Planet Hollywood, Caesars, Harrah's, Flamingo, Rio's, Bally's, the Linq, check our buffets list homepage for full details of all main buffets) offer a special buffet coupon booklet throughout winter and early spring (5 dollars off per person up to 4 people) which we think it's worth using.
You can pick those booklets up at any Harrah's resort check-in desk, they will be happy to offer them to you (you do not have to be a guest at their hotel). Beware that, at some point during the year, when they have enough 'traffic', they stop giving out these booklets, only to resume when visitors' traffic decreases. If you are visiting Las Vegas and they tell you they have stopped giving out these booklets, don't worry: we have written a new page on 'how to get free stuff in Vegas' where you can find many more tips on how to get meals coupons. But, before you go to that page, read on:
They also offer a 24-hour buffet pass which you can use for any of their buffets. If you eat frequently, this may be the deal for you! However, you still need to line up and you can go a maximum of 4 times (realistically, probably only 3 times). Moreover, before you rush to buy it, I would recommend that you read more details on it here and perhaps it's worth remembering that if you plan to eat at the Bacchanal buffet, you will have to pay extra even if you have bought the 24 hour buffet pass.
MGM Group (MGM, Mandalay Bay, Luxor, Excalibur, Bellagio, Mirage, Aria; again, please refer to our homepage for details of each buffet): they too offer a day pass (except the Bellagio). The great thing about their passes is that you do NOT have to line up so you can go ten times a day, if you want! Moreover, if you arrive now and you check in at the MGM group (with the exception of the Bellagio's of course, which never needs any promotion to attract visitors), ask for a 2-for-1 buffet coupon. We were given one at the Monte Carlo and, delightfully, it expires in 2 months! So, even if you leave the casino and stay somewhere else, you can always return and redeem the coupon later on. If you book several small segments (say 2 nights at one of the MGM group hotels and 2 nights somewhere else, still part of the MGM group), ask for the coupon each time you check in. We have been lucky! However, bear in mind that this changes at a moment's notice, since as soon as they begin to notice high 'traffic', they reduce their offers and their coupons can become unavailable until traffic becomes low again.
Meanwhile, if you like to visit buffets more than once a day, many have now introduced the 'all-you-can-eat-day-pass' offer; you can basically visit the buffet in question for the 3 meals for the price of the day pass; a clear attempt to entice you never to leave their resort, in essence! Some of them may be worth it, others definitely not; we tend to prefer to try different buffets (hence different food) unless it's one of the best 5 Las Vegas buffets.
Off-Strip Las Vegas Buffets Deals
They are by far the best and the most frequent, including 2 for 1, 50% off or totally free entries; some of these buffets are not that great but a handful of them are well worth the trip if you are budget-oriented and have a car (1 of them is do-able even without a car). For example, the renewed Silverton buffet is going through a cluster of promotions well worth utilizing (check our dedicated page for that by clicking on the underlined words); Red Rock, Palms and Studio B at the M Resort have their own promotions too, though usually geared at attracting locals (check our dedicated pages for that);  The Excalibur started this trend and it was then followed by many others (Rio, Stratosphere, Luxor, MGM, Palace Station, Flamingo etc). The price ranges from $20+ to $40+ (let me tell you that the best Vegas resorts such as the Bellagio's or the Wynn's do not offer this deal and the best among those that do is definitely the Rio's Carnival Buffet). Besides the Rio's, if you stay at the Stratosphere's for example, the Stratosphere's buffet day pass (being the cheapest) offers a great deal in that its food is actually the best you can find in that area. In that area of North Strip, the Stratosphere's buffet is definitely the best, though the new SLS buffet offers some competition (albeit more expensive and, so far, still struggling to find its identity and opening schedule).
Sometimes it's still best to use a coupon from the newspaper (see our other pages on how to eat affordable in Vegas) and eat at different buffets. I doubt you will actually eat three times a day at buffets and, if you do, I doubt that you will enjoy eating the same fare all day long, unless you are at the Rio's, for example. This because those offering all-day buffet passes are not the very top buffets where you would not mind going one hundred times!
Visit our 2 menus to find a large variety of tips and tricks!  One menu is on top of the page, and the other is on the left side or, if you are viewing on a small screen, at the bottom.  
Where to Find the Best Vegas Coupons  –  How to get free or cheap stuff (including meals) in Vegas  –  Cheap breakfasts (about 5 dollars or less) and cheap late-night meals (about 5 dollars or less): go to cheap Vegas meals and its linked pages.  Vegas Deals of the Week   –  Latest Las Vegas Real Videos  –  How to Get Free Stuff in Vegas
Keep an eye on our Facebook page or our updates page for Vegas news and so much more!  We specialize in Las Vegas Buffet Deals so don't hesitate to contact us for any related question.