Vegas Buffet Pass Must-Know
A Vegas Buffet Pass can offer excellent value for money, but not always and not for everyone. Hopefully this page will help you in your decision and give you a few tips if you decide to buy it.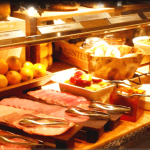 As the name suggests, the all-day Vegas buffet pass means that you can go not only for breakfast, lunch and dinner for one fixed price (see further down), but also any time in between, even if just for a hot or cold drink!  For this reason, it's advisable that you purchase the pass as soon as possible in the day and maximize the number of visits throughout the day/evening. 
Things to Consider before you buy a Vegas buffet pass.  Bear in mind that the very best buffets in Vegas do not offer this pass; so, the question is:  do you want to eat all day long at a mediocre buffet?  Having said this, if are staying at (for example) at Excalibur for a tournament or if you have no intention to leave the immediate area where Excalibur is; if you don't particularly care for food quality nor delicious variety, but mainly want unlimited food and unlimited non-alcoholic hot & cold drinks all day long, then buying the all-day buffet pass may well be a good idea.  In the case of Excalibur & Luxor, for example, the pass is valid for both buffets, so you can at least have some variety that, whilst staying in the same area (as they are adjacent and have connecting indoor walkways).
Among those which do, are:  Monte Carlo (Mon-Thurs, $35+ per adult and $25+ per child; Fri-Sun, $46 per adult and $26 per child); their take out option is $20.00 per person (taxes are added on top of all these prices, and this is important for European readers who are not used to it); Luxor & Excalibur (you can go to either on most days – see below):
Adults (Monday–Thursday): $35.99
Children (Monday–Thursday): $25.99
Adults (Friday–Sunday): $39.99
Children (Friday–Sunday): $25.99
*Valid at Excalibut & Luxor except on holidays
Is a Vegas buffet pass a good deal?
If you want to eat unlimited 3 times a day or more, then of course it's a better deal than paying for each entry (breakfast, lunch and dinner) individually, provided you don't mind eating at the same buffet all day long.  However, few people have multiple large meals a day in Vegas nor do they have enough time to go back, line up for a table more than once or twice a day (there is simply not enough time!).  Most importantly, you are limited to going to the same (usually mediocre) buffet all day long which, given that you are in Vegas and you'll probably want to sample a lot of what this city has to offer, is not what many people want to do.  If you want to go to one great buffet per day (see our list of best Vegas buffets) and just nibble something the remainder of the day (or try one of the world-famous restaurants), you may spend a little more but, in the end, you will have probably enjoyed your time in Vegas much more as well!
Having said this, if you are happy with 'just food' and are not planning to go far off your resort, then the buffet pass may work out best.  We were happy we could go to Luxor and not be limited to Excalibur, frankly; we're just not convinced most would enjoy eating at Excalibur multiple times a day.
Note:  please note that when we're offering a critique of a Vegas buffet we are doing so in relative terms:  we are only comparing Vegas buffets, where the standards are generally higher than in most other places  We are well aware that in most other areas (including where we live) buffets are nowhere near as varied nor as 'good'.
Is the Take Out a Good Deal?
If you compare the price of lunch and of take out, for example, I would say that paying a few more dollars to 'eat in' is better value for money, especially given the endless amount of non-alcoholic drinks you can consume and the fact that some of the more expensive dishes don't fit easily in the container they provide (which you cannot overfill, since it has to close without effort).  If you want to eat a few things and it's dinner time, it may be worthwhile; however, before deciding, I would recommend you look around the buffet (they will let you do that) to decide what you can place in the container and if it's to your liking (and enough food for you!). 
24 hour Buffet Pass in Las Vegas Tips, Guide & Prices